What is OTT Advertising?
OTT advertising is the act of marketing to this internet-connected audience as they stream content.
The transmission of advertisements via internet video streaming is known as OTT Advertising. OTT (over-the-top) advertising is advertising delivered directly to viewers over the internet through streaming video services or devices. Advertisers leverage OTT platforms to reach their target audience through various ad formats, such as pre-roll ads, mid-roll ads, and display ads, delivered during streaming content.
AVOD (Advertising Video-On-Demand): AVOD lets viewers watch content for free but there'll be adverts throughout the program to cover production and distribution costs.Example - YouTube, HULU
TVOD (Transactional Video-On-Demand): TVOD is where customers make one-time purchases to access specific premium content. Sometimes it's referred to as PPV (pay-per-view) or PPD (pay-per-download)
Example - iTunes, Amazon Prime Video and Sky Box Office
SVOD (Subscription Video-On-Demand): SVOD is where you sell subscription access to your videos online for a recurring monthly or annual fee.
Example - Netflix, Disney Hot star, Amazon Prime Video
Hybrid (SVOD + TVOD): It offers the best of both worlds by combining elements from the different monetization strategies. It lets you cater to both long and short-term customers via recurring subscriptions and one-off transactions.
Example- I) Amazon Prime Video: an all-you-can-stream subscription service. II) Amazon Instant Video: a pay-per-view store for buying and renting videos.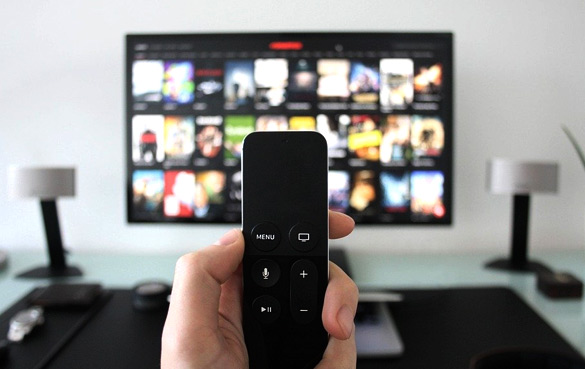 Now you know about the different OTT business models, it's time to choose a platform with Bookmyad that'll help you meet your revenue goals.
Mobile

Desktop
Tablet

Laptop
Start Your OTT Advertising
Please fill out this form
Types of OTT Streaming and Advertising-
There are two kinds of OTT streaming: paid and free. Some OTT services require a subscription fee, while others generate revenue by showing advertisements on their platform.
Advantages of OTT Advertising:
OTT is The Paradise of Internet Advertising. India is one of the fastest growing countries that is using OTT services. OTT advertising offers a range of advantages, including precise targeting, high engagement, broad reach, customization options, advanced analytics, ad skipping prevention, cost-effectiveness, and personalized ad experiences.