The Times of India: Most popular for classified advertising in small advertising expenses?
May 17, 2017
---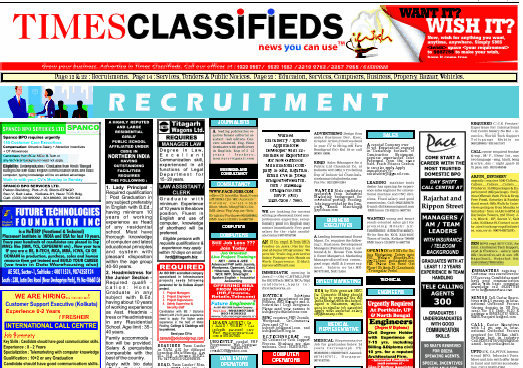 The leading newspaper TOI emerged from the house of Bennett, Coleman & Co Ltd, referred to as a highly lucrative platform for advertising. These days, The Times of India Classifieds section is most packed platform for advertising. Every small advertiser looks for great response in tight budget. TOI facilitates this for several categories. You are able to place business ad in Times of India by small advertising expenditure. You can get great response from all parts of India by Times of India classifieds.

Many people think that classified ad do not give response. However, if you place your ad in Times of India classifieds then responses will undoubtedly be tremendous. However, it's your responsibility to follow along with certain rules. It has been suggested to get better outcome. You should take care of focus day, placement of ad & ad matter. Here, you will get the insight in regards to the focus day for Times of India classifieds for certain categories. For business category, place your ad on Tuesday. Matrimonial ads in TOI are only published on Sunday. Saturday is acceptable day for property advertising in TOI. Sunday is also considered as focus day for to rent, sell and property ad. Mostly advertising agencies suggest for placing job ad on Wednesday. Name change advertising can be placed the weekdays. Everybody knows that TOI is English language publication. English ad matter is just acceptable. Sometimes like Public Notice, You are able to publish your ad matter in Hindi as well. TOI provides multiple packages in all categories. The publication offers number of customized packages including combo offers. The entire sister publications of TOI are extremely popular. So, if you avail combo packages then you will undoubtedly be privileged to obtain more responses. The combined packs of Times of India classifieds are extremely feasible. In categories like, Change of Name, Matrimonial, Business, Recruitment, they prove very effective. These days, TOI all edition packages are highly in demand. It's so because such ad packages give you the possibility to cover entire India within an effort. This kind of ad package is best for business advertising. Now the main element query is here now that from where, you can get such lucrative package. You can get them online anytime. Now online TOI advertising agencies are running. They sell you TOI advertising offers online. They are supported by highly advanced booking platform. In such platform, advertiser can come anytime & place their order. So when you have necessity for classified advertising in Times of India then online newspaper advertising agency like bookmyad.com provides you best service.