How to Place a Name Change Ad in Hindustan Times?
Nov 22, 2018
---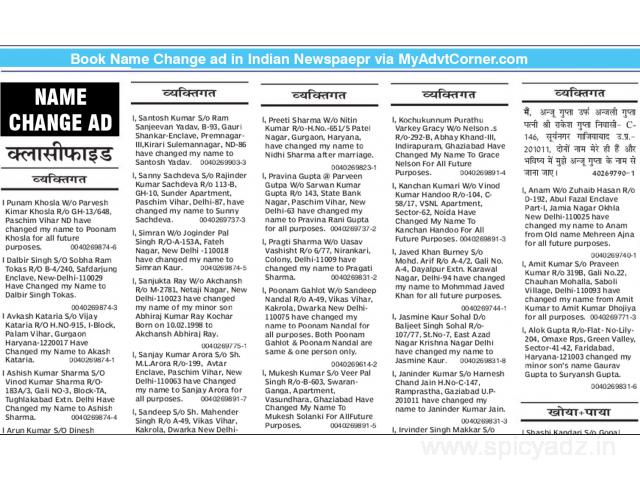 Hindustan Times is one of India's largest broadsheet newspapers with a circulation of 14 lakhs and an average readership of 37.7 lakhs across the nation. Being one of the best newspapers in India, Hindustan Times is offering the day-to-day happenings of national and international regions since 1924. Everything about this newspaper is unique and one-of-its-kind, whether it's about balanced storytelling, political correspondents to rich social content and classified ads. This is the reason why Hindustan Times is all reader's favorite! Well, talking about placing a name change ad in newspaper, I suggest you go with 'Book my Ad' where you can avail the benefits of placing your ad at discounted rates. Publishing of name change advertisements in newspapers in Delhi and all over India is a formality to be fulfilled while applying for a passport and other legal purposes in the following circumstances:
• Change in your surname
•Change in spelling
•Change of religion
•Change of one's own name/father's name and more
You just need to follow these few steps to place a name change ad in Hindustan Times:-
•Just choose your ad category
•Select the preferred city, publication and ad type
•Compose your ad
•Make the payment
To get your ad published in such manner, you need to have 1 self-attested photo identity proof (For e.g. Pan card or Adhar Card with corrected Name) to be submitted at the passport office along with a Change of name ad published in 1 National and 1 local newspaper in Delhi.
Book My Ad will take care of the rest and you will be happy to see your ad placed as per your needs.